N O P L A C E L I K E H O M E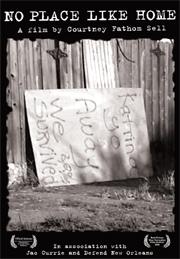 - No Place Like Home tells the story of Defend New Orleans creator Jac Currie; a Gulf Coast native working to rebuild his hometown through his own non-profit organization. While not your typical documentary, and being sure to stray far from any form of natural disaster statistics, the film is merely an honest portrait of an individual working to overcome to wrath of Katrina. Documenting many of Currie's efforts to raise money, awareness and spread hope throughout the country, Courtney Fathom Sell's debut film is a gritty yet emotional and heartfelt documentary, as it allows the subject to present the issue straightforward yet collects sensitive images - and is filled with moments which help describe the effects of the devastation both physically and emotionally. The film has gone on to screen internationally as well as receive 'Best Picture' at the 2006 Blue November Film Festival and made official selection at the 2007 New York Independent Film Festival. It has recently been released on DVD through Emphasis Entertainment. You can watch the trailer below. The DVD can be ordered The DVD can be ordered Here.



Jac Currie of 'Defend New Orleans' on Ellen

DNO VIDEO - DNO on Ellen from DNO VIDEO on Vimeo.