M Y D Y I N G D A Y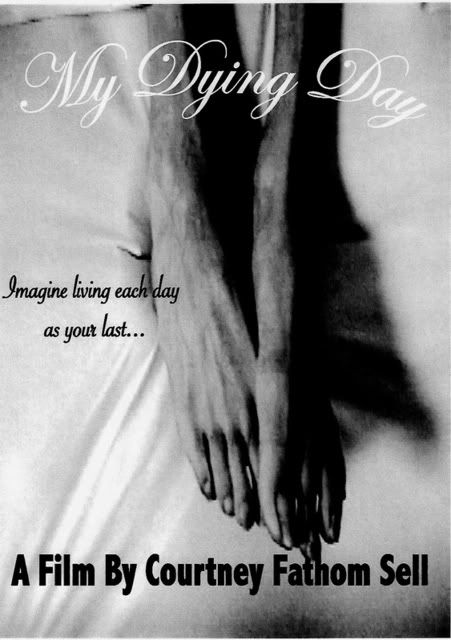 Sell simply decides to sit back and roll his camera, assembling a simple story from various bits of footage and interviews. Of course this is rough stuff, depending on how you approach it, but it's also refreshingly upbeat, and never maudlin. The fact that it's Sell's own father fighting a losing battle against cancer makes this 10 minutes truly remarkable. - DVD Talk

Courtney Fathom Sell is a very promising young filmmaker who can give both a realistic portrait and prove a point. - DVD Verdict

Much of his work is shot on Hi8 video, and while it might be a choice dictated by practicality, the resulting raw aesthics are definitely no accident. Luckily, the subject matter Courtney is drawn to perfectly compliments this style. - The Documentary Blog

- Originally titled "Heaven is My Last Resort", Sell's award winning video documentary is the story of a man, who after being given only two months to live after being diagnosed with an aggressive form of cancer, went on to outlive such predictions by nearly seven years. While nearly 30 minutes have been cut from the rough version, 'My Dying Day', which runs only 10 minutes is a deeply emotional, yet optimistic look at an individual fighting against all odds to overcome his incurable sickness. Emotional and powerful scenes of the main subject planning out his own funeral, plotting his grave site, and comforting those who also live in Hospice care blend together with in-depth and personal interviews to help better describe the thin line which divides life and death. The film went on to win 'Best Short Documentary' at the 2007 Evil City Film Festival, in New York City and has been screened across the country at various festivals and events. Watch the entire film below!



Select Links:

Zero Cancer (The Project to End Prostate Cancer)

Watch the entire film below!

My Dying Day from C.K. Dexter Haven on Vimeo.